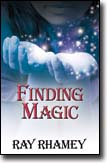 Annie is a gifted healer in a hidden society. . .
. . . whose members manipulate the life energy created by all living things to do magical feats: to heal flesh, to slow aging . . . and to kill without a weapon.
In Chicago, a Homeland Security agent catches her using her "magic" and decides Annie is a terrorist. On the run, Annie is helped by Gabe, an unknowing "half-breed" of her people. He and Mike, his 5-year-old son, share her abilities—but, isolated from the clans, they don't understand their strange talents and are tormented by them. Little Mike seems lost in autism.
Annie's heart goes out to them, but, before she can help, she and Gabe are captured by Homeland Security and tortured for a secret that Annie can't reveal and Gabe doesn't know.
Gabe is freed by a clansman bent on a vendetta for the killing of his son by an "ordinary" human. He tricks Gabe into using his abilities to help create an unstoppable plague of mad cow disease that will destroy mankind.
Annie breaks free and goes into hiding to protect the clans, but then only she and Gabe can stop the release of the plague from high atop the Seattle Space Needle—if they're not stopped when the Homeland Security agent, who holds Mike hostage, launches an attack.
With high-stakes conflict and human drama, Finding Magic explores loss, prejudice, community, and the human magic within each of us.

Read a free sample here.